ECHO – Available on iTunes
Our seventh application, ECHO: An Echocardiography Reference, has been approved by Apple and has been posted on the iTunes App Store today!
ECHO: An Echocardiography Reference is designed for the dynamic environment of the perioperative echocardiographer. A user friendly source of specific information; ECHO allows a quick look up of normal values, severity cutoffs, formulas and calculations.
ECHO offers a concise clinically relevant evaluation of the most common valvular lesions, ventricular function and hemodynamic calculations.
To learn more about our ECHO app please visit http://www.iAnesthesia.org/apps/echo/.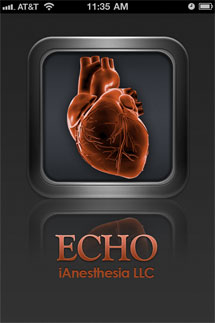 Leave a comment