ECHO Views – TEE Atlas
This iPhone, iPod and iPad Transesophageal Echocardiography Atlas highlights the 20 most common TEE views used in a basic TEE exam. With labels of all significant anatomic structures as well as a brief explanation of the highlights of each view; ECHO Views is the perfect quick reference for the occasional gaps in your TEE knowledge.
By organizing the views by significant cardiac structures, ECHO Views allows users to quickly find alternate views for particular structures of interest.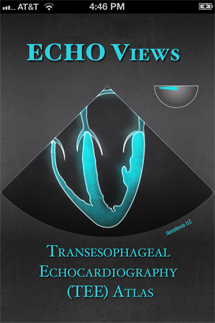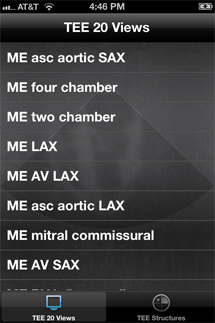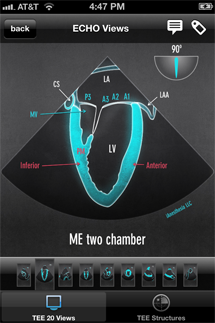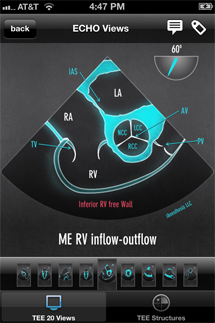 30 Anatomic Structures Highlighted:

A1, A2, A3 & P1, P2, P3 Mitral Valve Scallop
Ascending Aorta
Aortic Valve
Coronary Sinus
Descending Aorta
Inferior Vena Cava
Intra-atrial Septum
Left Atrium
Left Coronary Cusp
Left Pulmonary Artery
Left Ventricle
Left Ventricular outflow tract
Left Atrial appendage
Left Ventricle wall segments
Main Pulmonary Artery
Mitral Valve
Non-coronary cusp aortic valve
Papillary muscle
Pulmonic Valve
Right Atrium
Right coronary cusp aortic valve
Right pulmonary artery
Right ventricle
Right ventricular outflow tract
Superior vena cava
Tricuspid Valve

Testimonials

Curabitur sed purus et libero iaculis adipiscing eu eu nisi. In quis erat libero, sed tempus tellus. Sed elementum laoreet libero non suscipit.
John Doe, something.com




Curabitur sed purus et libero iaculis adipiscing eu eu nisi. In quis erat libero, sed tempus tellus. Sed elementum laoreet libero non suscipit.
John Doe, something.com




Curabitur sed purus et libero iaculis adipiscing eu eu nisi. In quis erat libero, sed tempus tellus. Sed elementum laoreet libero non suscipit.
John Doe, something.com