ACLS Rhythms – Resuscitation Guidelines
ACLS Rhythms is not an algorithm app or simulator, instead an app designed to help you recognize and understand ACLS arrhythmia's. Life-like electrocardiograms with pulse oximetry tones, defibrillation noises and monitor alarms add realism to your interpretation and learning. Learn ACLS rhythms faster using sight and sound.
Our one of a kind cardioversion movies allow you to watch ACLS rhythms and witness post cardioversion scenarios!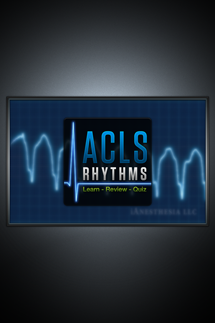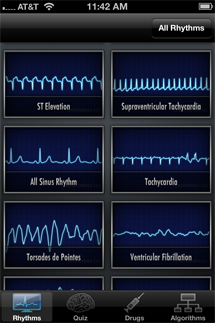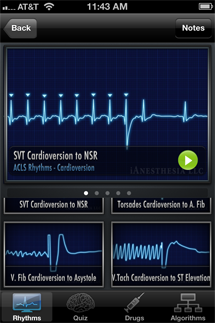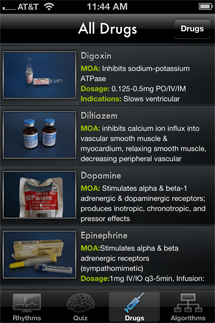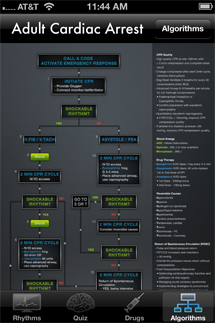 Features

Beautiful HD Movies for Retina Displays
Textbook examples of common arrhythmia's
Real Life rhythms with pulse oximetry tones, defibrillation noises and monitor alarms
Each movie is complete with pearls for identification
ACLS Rhythms exam to test your understanding
Details common ACLS medications, doses & MOA
Guidelines for management of Adult Cardiac Arrest
Comprehensive ACLS app

Requirements

Requires iOS 5.0 or later
Universal App for the iPhone & iPad

Testimonials

Dynamic movies simulate real life clinical practice, with all the alarms and noises to recreate a stressful environment. ACLS Rhythms is a fantastic way to learn!
☆☆☆☆☆ Dr. Truxillo, April 6, 2012




Cardioversion movies are awesome!
☆☆☆☆☆ Dr. Trask, April 6, 2012




Really cool movies! Especially like the cardioversion rhythms! Should be really helpful when reviewing for my ACLS course.
☆☆☆☆☆ Pediatric MD, April 6, 2012